Researchers have long recognized the tremendous similarities shared between modern birds and non-avian dinosaurs like Velociraptor and Oviraptor. For this reason, the consensus among paleontologists is that modern birds evolved from non-avian dinosaurs. Biblically, we know this to be impossible. The first chapter of Genesis records that God created birds on the fifth day of Creation Week. On the following day, He created land animals (including non-avian, terrestrial dinosaurs). Nevertheless, a plethora of very bird-like dinosaur discoveries have highlighted the late 20th and early 21st centuries. Some of these dinosaurs possessed feathers. How can we understand this from a biblically-consistent worldview?
The following article is a summary of "Feathered Dinosaurs Reconsidered: New Insights from Baraminology and Ethnotaxonomy" by Matthew McLain, Matt Petrone, and Matthew Speights, and of the surrounding discussion and research pertaining to it. The views expressed do not necessarily reflect those of New Creation.
Traditionally, creationists have placed "feathered dinosaurs" into one of three groups: either as 1) misidentified birds with true feathers, 2) dinosaurs with misidentified feathers, or 3) hoaxes. The infamous Archaeoraptor specimen was such a hoax; the back half of a dinosaur was glued to the front half of a bird. A landmark paper presented at the 2018 International Conference on Creationism by paleontologist Matt McLain et al. took a different approach.
Yes, They Really Had Feathers
They first established that, yes, some dinosaurs really had feathers. These feathers came in many different shapes and sizes, as do feathers in modern birds. Some, like those of the chicken-sized Sinosauropteryx, were down-like fuzzy filaments that mainly helped keep the animal warm. Others, like those of Archaeopteryx and Microraptor, were similar to the flight feathers in modern birds. These would have enabled the animals to fly or glide. Some dinosaurs may have also used feathers for display. Caudipteryx had a fan of feathers on the end of its tail that resembled a miniature peacock's tail.
Another observation McLain and the other researchers made was that these feathered bird-like dinosaurs truly did blur the line between creatures traditionally called "dinosaurs," and those traditionally called "birds." In fact, it was virtually impossible to be dogmatic about whether to call some species birds or not in many cases. The lack of apparent dissimilarity may seem to confirm the evolutionary relationship between modern birds and non-avian dinosaurs. Closer inspection, however, calls this into question.
Using statistical analyses, McLain et al were able to determine that there are major discontinuities within the group containing non-avian dinosaurs and modern birds. In other words, there are species that form clusters of "similarness". These clusters are sufficiently separated from other clusters of species by an unbridgeable chasm. These islands of similarity can be equated to created kinds of organisms.
Separate Kinds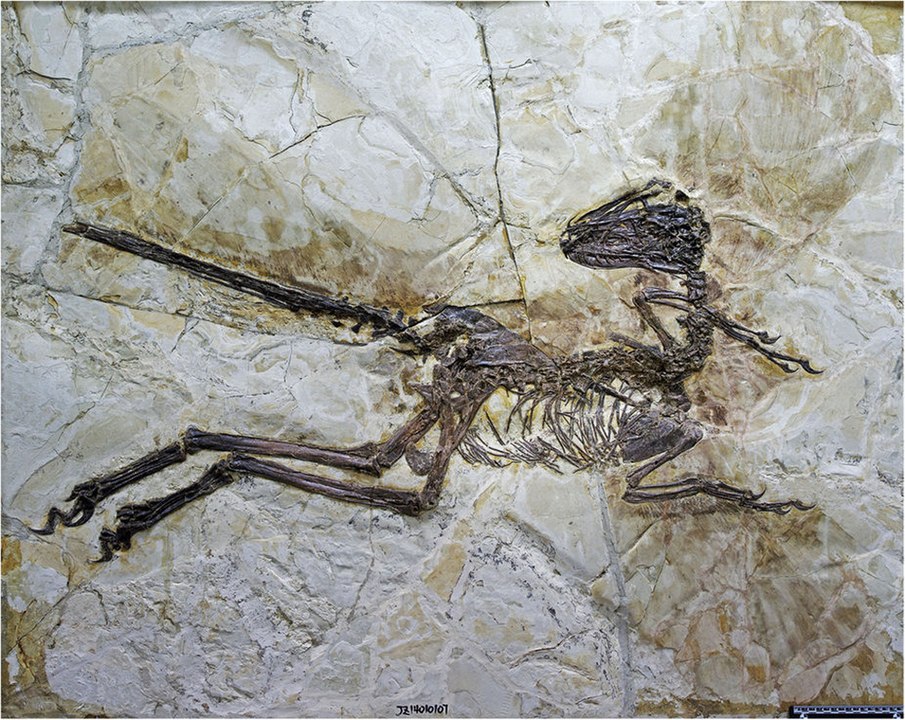 McLain's research found evidence that feathered dinosaurs represent at least seven created kinds. None of these share continuity with any other created kind of non-avian dinosaur or modern bird. Some of these created kinds included the ornithomimosaur kind, the oviraptorosaur kind, and the therizinosaur kind. Interestingly, the deinonychosaur kind appeared to contain species traditionally considered birds, like Archaeopteryx, as well as species traditionally considered dinosaurs, like Velociraptor and Deinonychus. Nevertheless, even this created kind was sufficiently distinguished from other created kinds.
McLain and his team determined that while their research confirmed the prediction that modern birds belong to different created kinds from dinosaurs, it is also a call for creationists to rethink the way they understand not just how to understand the relationship between birds and non-avian dinosaurs, but the organization of life and God's created variety as a whole. We can group modern tetrapods (four-limbed land animals) into one of four groups: mammals, birds, reptiles and amphibians. However, fossil discoveries of the past several decades of "dino-birds," therapsids, and other mosaic organisms render these distinctions unhelpful and perhaps incorrect. Rather, we can regard birds as a specialized type of feathered dinosaur, in much the same way bats are a type of mammal.
"Forcing fossil specimens to be either 'bird' or 'dinosaur' neglects the complexity of the design patterns among these kinds of animals and can mask God's glory, which He determined to display through them."

Matt McLain, 2018